What should you wear to look fabulous and feel as confident as you did before the pandemic? I've noticed more than ever before that everyone wants to feel more comfortable after wearing sweats and yoga pants for the past 18 months.
This is the problem…. after wearing our most comfy casual stretchy clothes for the past year and a half, so many professionals are re-thinking what clothes they want to wear and how to revamp their existing wardrobe to continue wearing these ever so forgiving lounge-type clothes.
As an impassioned costume historian, I find myself looking at where we've come from and where we find ourselves going, after yet another major historical event. Are we all going to look like we belong on Star Trek with comfy stretchy two-colored uniforms?
My vision of the post-COVID Business Casual
My recipe for the ultimate Business Casual is wearing a pair of nice comfortable jeans or casual pants with a professional looking top and a great pair of shoes.  Professional on the top and bottom, casual in the middle.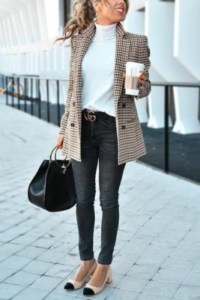 Divide your body into 3 parts: top, middle and bottom.  Each part will have its own look.  By following this advice, you will always look modern and professional.
Top – The tops for both men and women are the same.  This includes everything you wear above your waist – jacket, shirt, dress, scarf, sweater, hoodie etc…
Whether you're on video conferencing calls all day long or in-person meetings, you still want to look more professional with what you wear on the top.  After all, most of the time, this is all people actually see of you. This includes nice shirts that are well pressed, casual or more tailored jackets, sweaters, pullovers, and cardigans as well as dresses.  Clean well-pressed clothing on the top creates a polished more attractive impression.
FYI:  for those wearing older clothes on Zoom (and other video conferencing platforms), it doesn't matter if your clothes are new or old.  The camera picks up the color, not the texture.
Middle – Darker jeans, (non-faded or super distressed jeans), pants or casual skirts.  The point is that what you wear in the middle is casual, something you would not typically pair with a more formal top.  My favorite is a dark blue pair of jeans.  You can dress them up so that they look like a pair of dark pants, yet, the styling and fit is just a pair of jeans.
Jeans now have more stretch to them than ever before with the high-tech fibers that are woven into the fabric to give them a more comfortable fit.  Men are now getting used to this new comfort of tighter, yet stretchy-fitting jeans and are loving it!
Bottom – Shoes.  It's all about the shoes. Trust me!  Everybody notices your shoes, both for women as well as for men. How many times have you noticed either a man or woman wearing a fab pair of shoes? Everyone notices and completely changes the outfit to elevate the overall look.
Wear a fabulous pair of shoes to bump up that casual outfit.  Of course, your shoes might very well have a white rubber sole. Personally, I'm getting a bit tired of all those white-soled shoes that we can't escape these days.  I get it!  That's the trend.   My only gripe is that they end up getting  dirty so quickly, making your new shoes look old… It's a ploy to get you to buy more shoes more frequently.     See my article "It's all about the shoes". https://shelleygoldenstyle.com/fashion/its-all-about-the-shoes/
Business Casual is what you want it to be and how acceptable it is within your sphere of professionalism and influence.  Perhaps I'm old school, but keep in mind, the better you look, the more respect you'll receive.   First impressions still matter.