C

reate a statement about who you are… and the organization you represent  
with the Zoom Makeover Expert Shelley Golden
"This (Zoom Make-over) was amazing, it changed the way I look at being a presenter on Zoom. I learned about lighting and the importance of paying attention to the background that my audience is viewing. I walked away with a whole new perspective… I now come across as a highly paid expert in my field. I was reminded of the depth of your mastery."
Sabrina Braham M.A.MFT PCC.   
Up-level the on-line screen presence of yourself, your employees and team members to present a professional image that builds confidence and your personal brand while increasing your bottom line.
Whether you are with a Fortune 500 company or a small organization, it's now more important than ever to create a visually pleasing on-line presence.
Shelley works with individuals or groups to transform and improve their screen presence as they work from home by adjusting their lighting and addressing background challenges as well as the color and style of clothing and make-up to create an engaging and professional appearance.
As more and more organizations are conducting business on-line, everybody needs to up their game and look their best in the surroundings they are in. Shelley created a 5 step Zoom Make-over process that she takes groups and individuals through to up-level the their screen presence by aligning the all the visual aspects in the video presence to match your brand and your messaging. Shelley supports professionals in presenting themselves on-line in a warm, inviting and non-distracting space to feel as though they are sitting at the same table.
Up-level your lighting, background, clothing, and makeup
Understand what colors work best and what colors to avoid
Increase your confidence and personal brand
Gain greater respect when virtually inviting people into your home or office
When you want to inspire, make an impact, and have people pay attention to you and what you're saying, everything needs to be in alignment.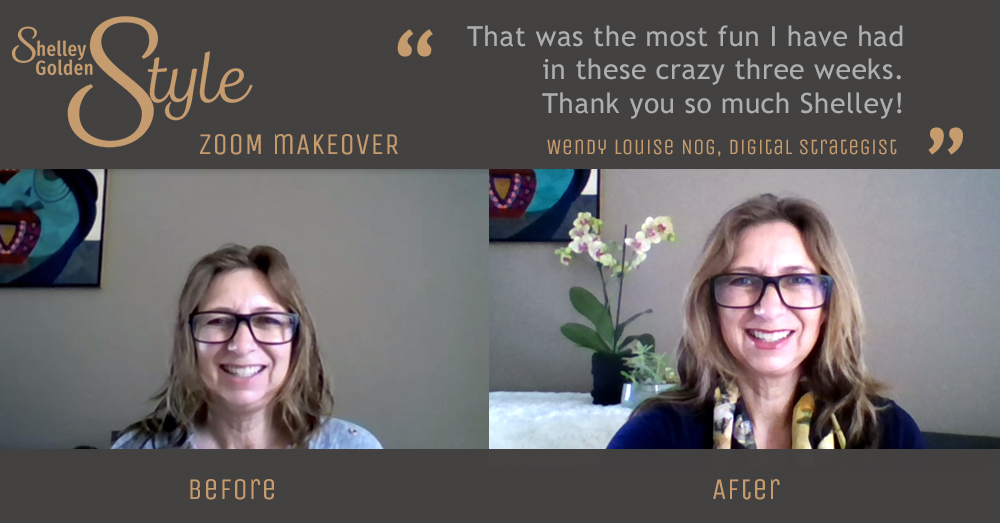 INDIVIDUAL SESSION
UP-LEVEL YOUR SCREEN PRESENCE on ZOOM or WebEx  (in real-time)
What color clothing looks best on you in your space
Tweak your lighting, background/surroundings, hair, make-up etc….
Learn how your image impacts your confidence and connection with others
Keep up your confidence, personal brand and gain more respect with your clients.
CORPORATE & GROUP
 ZOOM MAKEOVER WORKSHOPS AND PRESENTATIONS
All done via zoom, Shelley has an engaging presentation/workshop which includes slides of what works and what doesn't and take people through a 5 step process to improve how one appears on-line to look more engaging and approachable.  
S
This immediately helps create a powerful statement about who you are and the organization you represent by feeling more confident, creating a better rapport, increasing your personal brand and improving the closing ratio of your sales.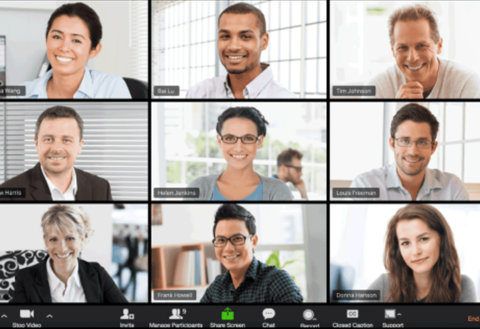 "After having a "Zoom Make-over"  with Shelley,  I feel more confident about how I present on video.  She has a great eye for color and design.  I recommend her Zoom Make-over for any professional that has taken their work  online."
Darcie E , MS, RD, CDE, IFNCP
screen presence expert
"Wow, She knows her stuff! I'm so grateful for her keen eye and expertise in fashion, lighting and make-up. She is a wizard with color and design making me look great…I know she will do the same for you."
Sharon Caren, Spiritual Intuitive
screen presence expert
"Shelley, Thanks so much for speaking with members of Lawyers Club of San Diego – you got rave reviews!"
Arlene Yang, Esq.  Brown Law Group
How to look your best on Zoom