ZOOM MAKEOVER EXPERT 
Shelley Golden
Create a Statement About Who You Are And The O

rganization

 You Represent
"This (Zoom Make-over) was amazing, it changed the way I look at being a presenter on Zoom. I learned about lighting and the importance of paying attention to the background that my audience is viewing.  I now come across as a highly paid expert in my field. I was reminded of the depth of your mastery."
Sabrina B,  M.A.MFT PCC.   
Whether you are with a Fortune 500 company or a small organization, it's now more important than ever to up your game and create a visually pleasing on-line presence by personal increasing connection and eliminating distractions.
As more and more people work from home as result of COVID, I've created the ZOOM MAKEOVER to help companies, professionals and speakers transform and improve their on-line screen presence by increasing personal engagement, improving rapport and up-leveling their personal brand.
As a Personal Branding Image Consultant for 20+ years, I have created this timely and innovative 5 step ZOOM MAKEOVER process to improve one's online screen presence for business, speaking or videos by aligning the all the visual aspects in the Zoom "box" to match their brand and their message.
When you want to inspire, make an impact, and have people pay attention to you and what you're saying, everything needs to be in alignment.
Camera angle
Lighting
Background – nice, non-distracting, artistically balanced
What style and color clothing works best in the particular space and what colors to avoid
Zoom specific make-up
Having lived in Amsterdam for 10 years, I studied the Dutch Masters and the Impressionists and approach the ZOOM MAKEOVER as an artist creating a painting. I draw the viewers eye to the person like a bullseye amongst their nice, neat, non-distracting background with lines of perceptive, balance, color and lighting.
I have spoken to and worked with companies, organizations and individuals across the United States and would love to share my gift of helping people look their best online to attract the people they want into their life during this unprecedented time of living and working on Zoom.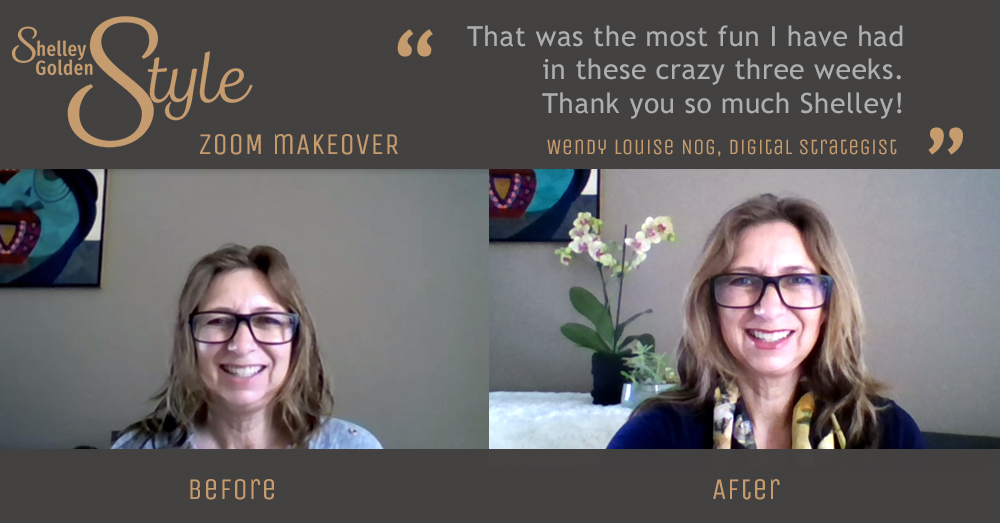 INDIVIDUAL SESSION
UP-LEVEL YOUR SCREEN PRESENCE on ZOOM   (in real-time)
Improve your camera angle, lighting, background/surroundings and Zoom specific make-up etc….
What color clothing looks best on you in your space and what to avoid
Increase your engagement, improve your rapport, and up-level your personal brand
CORPORATE & GROUP
 ZOOM MAKEOVER WORKSHOPS AND PRESENTATIONS
Create a better rapport…  Up-level your personal brand… Improve the closing ratio of your sales.
s
All done via zoom, Shelley has an engaging presentation/workshop with tips and hacks of what works and what doesn't.  She guides the participants through her 5 step process to improve on-line appearance to look more engaging and approachable.  Let's
 create a powerful statement about who you are and the organization you represent.
"This is one of the best things I have done since COVID started. Shelley in a GENIUS!! Her unique artistic background and experience make for an incredible ZOOM makeover consultant… Any person Zooming for any reason cannot afford not to get her technical tips and tricks to maximize their Zoom presence."
Joanne P,  World's First Robotic Psychiatrist®
"Wow, She knows her stuff! I'm so grateful for her keen eye and expertise in fashion, lighting and make-up. She is a wizard with color and design making me look great…I know she will do the same for you."
Sharon C, Spiritual Intuitive
x
screen presence expert
"After having a "Zoom Make-over"  with Shelley,  I feel more confident about how I present on video.  She has a great eye for color and design.  I recommend her Zoom Make-over for any professional that has taken their work  online."
Darcie E , MS, RD, CDE, IFNCP
How to look your best on Zoom