You've been asked to speak at an in-person event and want to make the best possible impression on your audience. These ten tips will provide you with guidance on how to dress for impact and confidence when presenting on stage, which is crucial for creating a positive impression and engaging your audience.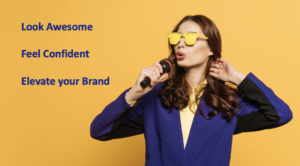 Here then are my Top Ten tips on how to dress for impact, confidence, and credibility when presenting on stage:
Wear comfortable clothing: Being on stage before an audience can be exciting, but for some people, it can also be nerve-wracking. So, make sure you select clothing that will allow you to be comfortable throughout your talk. You don't want to wear a fabric that is itchy or scratchy, even if it looks good on you. Also, keep in mind that you will most likely want to move around while on stage, unless you're giving a TED talk in which you only have the small iconic red carpet. Ideally, wear clothing that is not too tight and does not restrict movement as that could be distracting and can affect your performance. Your clothing should fit you well and flatter your body type. I always suggest my clients invest in higher-quality clothing, tailored to fit them perfectly. You'll feel more confident, knowing that you look great and you will feel comfortable as you move more freely on stage.
Dress professionally: This is a given, right? You would be surprised how often I see people dressed inappropriately because they haven't taken the time to think this through. Start out by considering who your audience is and the type of event at which you will be speaking: Is it a TEDx Talk, a business seminar, or an age or subject-specific event? Once you have this information, it's important to dress so that you appear credible and trustworthy when speaking about your chosen subject.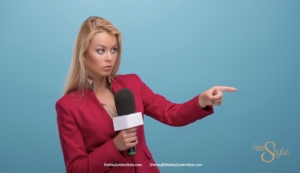 Dress for the audience: Know your audience and match the way you dress with their degree of formality, but… step it up a notch! Consider who you will be speaking to – your audience demographics should play a part when selecting your outfit. Think through who your audience is and choose clothing that has the right feel for the audience. You can always tailor your clothing to appeal to your audience's preferences and tastes.
Dress for the venue: Consider the venue and environment when selecting your clothing. Is it a large venue or a more intimate setting? Is it a formal event? If so, opt for more formal attire. If, however, it is a more casual setting, you can dress down, accordingly. Also, it would be helpful to know whether the setting is kept well air-conditioned or not as you don't want to be uncomfortably cold in your attire, for privacy reasons.
Do not wear all white. Since white is the first color the eye and the camera lens see, an all-white outfit will pull your audience's attention to your outfit instead of to you. White will also adversely affect how you look on camera as white's brightness needs to be compensated for by darkening everything around you. One exception is if you know the background is a dark color.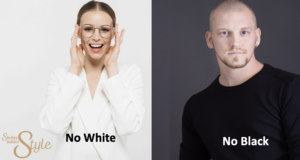 Do not wear all black. While black may help you look slimmer when you are on stage in front of a live audience, it will be harder for them to see you – especially if you are standing in front of a dark background. In the worse- case scenario, all your audience will see is a floating head, which is not going to be the way you want to be seen. So, play it safe: either coordinate a colored top with your black pants or skirt or wear a solid color that is not black or white when you are on stage. The more vivid the color, the better. This will help you stand out to everyone in the room, including the people in the back row.
Keep it simple: Simple classic clothing always gets my vote because it is timeless and conveys a sense of elegance and sophistication. On the other hand, you want to avoid clothing with graphics, logos or slogans that might be distracting or deemed offensive. While you might not be offended by wearing such clothing, wear it on your personal time, not when presenting. This includes anything that may be considered discriminatory, inflammatory, or vulgar. You want your audience to pay attention to what YOU are saying, not what's on your clothing.
Avoid busy or complicated patterns. Why? Avoid wearing clothing that may be distracting, such as clothing with busy patterns, checks, thin stripes and small patterns as they might moiré on camera, coming off as wavey patterns. Similarly, don't wear loud or flashy clothing: While it's essential to stand out on stage, you don't want to do it for the wrong reasons. This will ensure that your audience stays focused on you and your message, both in-person and on camera.
Choose jewelry that accentuates your persona, but keep it simple. You don't want large dangly earrings or clanking bracelets to interfere with the microphone.  You also don't want large statement pieces that could distract from you and what you are saying. Your audience will remember, not only what you say, but how you present.
Wear comfortable shoes. Don't overlook your footwear when presenting on stage. The most important thing is to wear comfortable shoes so that you are safe, but also keep them low-key so it is not the first thing people notice.  I'm a big believer that shoes make the outfit, but wearing scuffed or dirty shoes can detract from your overall appearance and undermine your credibility. Invest in a pair of clean shoes, be it heels, boots or sneakers, that complement your outfit, yet are not the first thing people see. Check out my previous blog, "It's all about the shoes". https://shelleygoldenstyle.com/fashion/its-all-about-the-shoes/
Be playful – be yourself:  No one said you couldn't add your personality to the mix. In fact, it's my feeling that your personality should always show up in how you dress. So, dress in a way that is true to your personal style and reflects who you are. This will ensure that you feel comfortable and confident on stage, which will translate into a more engaging and impactful presentation.  Just remember: first impressions still matter!