How to Make an AWESOME
first Impression
Do you get noticed when you walk into the room?
Are you confident with the way you look and your sense of style? On camera?  At a presentation?
By elevating your appearance, you will have greater confidence, more influence and greater ability to convert prospects into clients.
Learn what styles & colors work best
Learn to create the perfect silhouette that compliments your body
Learn how to create an AMAZING FIRST IMPRESSION
Business Casual – The Power and Impact of the
Right clothing on your Personal Brand
Are you attracting the people you want to do business with?
Learn how to create your own personal brand though your clothing
Learn how to empower your look and perfect Business Casual Dress for the specific market you're in
You will learn the nuances and variations of Business Casual in various cities and counties around the world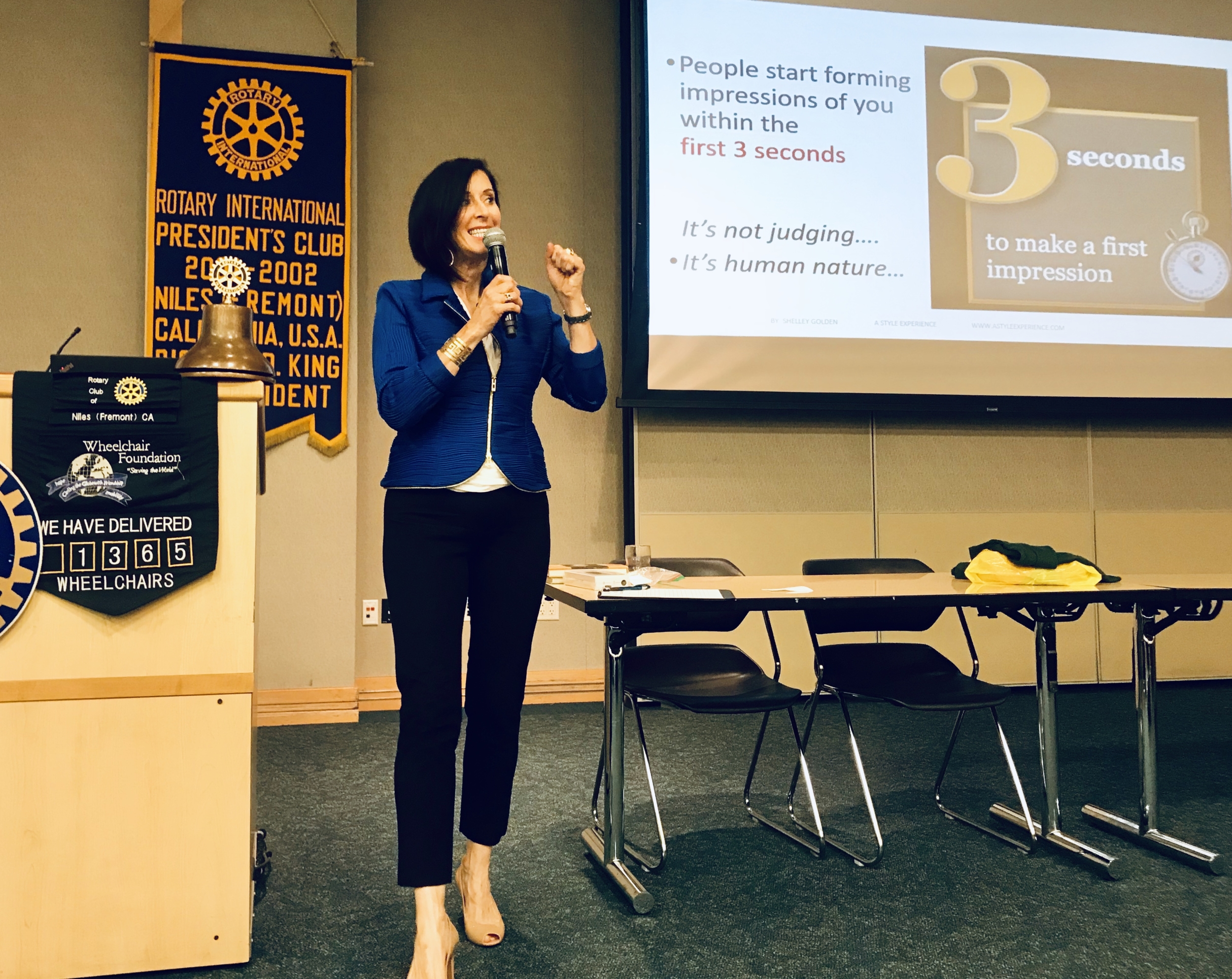 Photo of Shelley Golden speaking a the Niles Rotary in Fremont, CA
"Shelley delivered an outstanding presentation to a group of patients from the Surgical weight loss support group in a warm welcoming style.  She is incredibly knowledgeable about clothing, textiles and how to present and adorn the body in the best possible light, no matter one's shape.  Her presentation had excellent graphics and images that was entertaining and easy to comprehend.  She did and outstanding job of explaining how body silhouettes vary and the clothes one should wear during and after weight loss.  I highly recommend Shelley for any group."
DARCIE E,  MS. RD.
Shelley enthusiastically presented the information in a logical sequence while well considering the life experiences, cultural diversity and educational background of our audience. She was enthused and engaging in her presentation. The PowerPoint content was understandable and detailed with eye-catching appropriate graphics. Shelley is knowledgeable and charming–and a fun presenter! Shelley listened well to our needs to design, develop and deliver a presentation to a group of professional graduate students. The subject centered on the importance of dressing professionally and appropriately and how first impressions can become lasting impressions that affect employment.
SUSAN S, MS. RD.
Shelley's presentation was engaging and uplifting.  I loved hearing of her experience with costume design, costume history, and textiles from around the world. She's truly an expert on an international level.  Her passion for empowering others was evident in the before and after photos of clients whose self-image was transformed by Shelley's eye for the right fit and style for any shape and size.  I look forward to hearing Shelley speak again!
Linda H.  MBA