COLOR ANALYSIS
.
.
Let's Create Your Customized Personal Color Palette
color expert
Learn which colors look best on you and which colors to avoid.  Wearing your best range of colors will make you look younger, healthier, and more vibrant. While wearing unflattering colors can make you look older, tired and even ill.
Save time and money by knowing what colors and patterns look best on you.  It will make your clothes shopping so much easier by helping you build outfits that easily mix and match.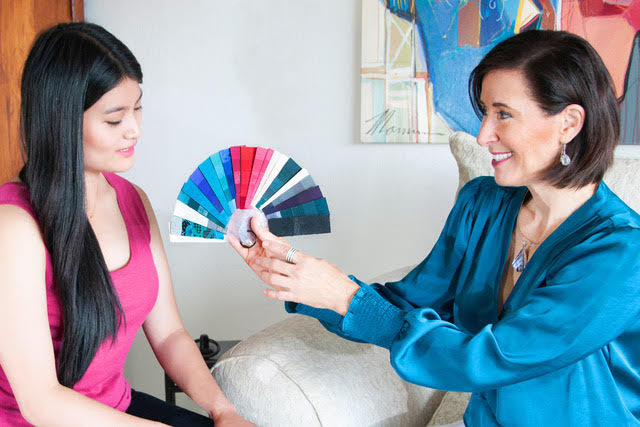 Shelley will guide you towards the best color choices for your wardrobe, hair and make-up, starting with the exact colors of your hair, eyes, skin, pink in your cheeks, lips, and whites of your eyes and teeth.  We then add and discuss complementary colors that you can mix and match as well as pattern size and what color jewelry looks best.
Each color swatch is personally selected and hand-cut for your fan… (not from a cookie-cutter template).
Color analysis is an essential part of a style makeover.
x
A personal color analysis makes a GREAT GIFT for that special woman or man that has everything 
Shelley's color analysis changed my life! Shelley gave me a color palette that makes me look more alive — and makes shopping 100x easier and faster.
Lisa L, CEO and Marketing Specialist